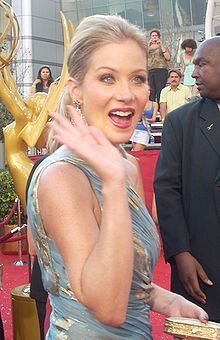 Christina Applegate is an American actress, best known for her character Kelly Bundy in Married With Children. She plays Reagan in Up All Night.
She made her acting debut at age five months, when her mother got her in a commercial for Playtex nursers. She played in a number of TV series before landing her breakout role in "Married with Children" (1987) in 1987. Christina still studies jazz dance.
Hall Pass (2011)
Cats & Dogs: The Revenge of Kitty Galore (2010)
Going the Distance (2010)
The Rocker (2008)
Farce of the Penguins (2007)
Employee of the Month (2005)
Anchorman: The Legend of Ron Burgundy (2004)
Grand Theft Parsons (2004)
Surviving Christmas (2004)
View From the Top (2003)
Wonderland (2003)
The Sweetest Thing (2002)
Just Visiting (2001)
Prince Charming (2001)
The Brutal Truth (2000)
Out in Fifty (1999)
Claudine s Return (1998)
Mafia! (1998)
The Big Hit (1998)
The Treat (1998)
Nowhere (1997)
Mars Attacks! (1996)
Across the Moon (1995)
Vibrations (1995)
Wild Bill (1995)
Don t Tell Mom the Babysitter s Dead (1991)
Streets (1990)
Dance 'Til Dawn (1988)
Jaws of Satan (1979)
Community content is available under
CC-BY-SA
unless otherwise noted.